CONDO
FOR SALE or RENT
Enjoy Skiing and Gambling!
Interval 1 Unit 68
(A fixed January week every year)
Begins on a Friday and ends on the next Friday
2 Bedroom 2 bath with 2 single beds in Loft
These units have rented for as much as
$1500 during prime years.

Now you can purchase this timeshare for
only $5950 (Fee Title Deed)
or
rent it for only $998 for the week.
or
Before buying, rent this timeshare first.
Party Hardy!
At the Casinos 5 minutes away
or in Reno or South Lake Tahoe which are only about one-half hour away.
Multi-Story, Rustic Townhouse
Set within wooded areas of central Incline Village
Lake Tahoe, Nevada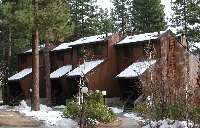 Each townhouse unit has a high vaulted-ceiling living area
with color TV, Stereo system, and Fireplace,
Kitchen with all amenities and utensils, including microwave,
coffee maker, full size multi-burner range top and oven,
dishwasher, trash compactor, full size refrigerator, garbage disposal, etc.
a counter top with bar stools and a nice Dinette Area that seats 6,
2 bedrooms (Master bedroom has a color TV),
a 2 bed loft with balcony railing overlooking living area,
nearly 2 full baths, Clothes washer/dryer
Lockable Ski closet and boot closet.
Ironing board with iron. Linen Service available twice daily.



Well-designed & spacious
Enjoy vacationing with all of the luxuries and aminities you will find at Club Tahoe.

Luxurious Bedroom
Enjoy the comforts of home away from home in this spacious bedroom
Your stay will be comfortable and pleasurable.
We have enjoyed our stay in these condo units for the last 10 years.
School and work schedules are preventing us from our annual Lake Tahoe ski trip. Now we are making it available for you to enjoy.



Lots of Snow
We have spent many Christmas and New Year Holidays in fresh fallen snow.

Clubhouse Entrance
Enjoy playing racquetball in the two indoor racquetball courts. You can also play pool, billiards, darts, pin ball, video games, wally ball, etc. Use the sauna or jacuzzi (choice of inside or outside), lift weights, and/or just have a drink or two at the bar and lounge. Large screen TV available for the sports enthusiasts.
Let's play ball!

1 mile away from it all.....
Beautiful Lake Tahoe, Incline's Largest Casino
and the Incline Ski Area are all just a mile away.
Club Tahoe's central location is about a half hour drive to Reno
(major shopping), South Lake Tahoe (headliner entertainment),
Carson City (State's Capital), plus 15 major north shore ski areas.



Nearby Skiing
Enjoy exquisite and breathtaking views from the slopes of nearby ski areas.


Truckee
There is shopping all around the Lake Tahoe Basin including shops and outlet stores in Truckee.


Don't Miss out on this opportunity.



Bridge
Take a beautiful gentle walk within the complex.

Balcony
Icicles hanging over the balcony of one of the condo units.


Views
Beautiful views from these condo units.

Views
Capture the feeling of tahoe.


Atop Diamond Peak
Picturesque Postcard views.

Sun Touched Lake
Enjoy the beautiful mystic scenery.


Start the New Year in Tahoe and Enjoy!
Party Hardy!

Catch me if you can!



Payment must be received in full and cleared, rental or sale contract signed, dated,
and delivered to us, before unit is yours to use.

We Accept...



Discover/Novis, VISA, MasterCard, & American Express


CREDIT CARDS
You may want to split the number.
Email as follows: 2345-6543-****-**** Expires 11/98.
Fax as follows: ****-****-8765-9876.
This is safe and fast.

Our fax number is
(559) 276-7485


CHECKS
Make checks payable to Jack Slevkoff.
Personal and Business Checks must clear.
Money Orders or Cashiers Checks are preferred.


Email us at:
Jack@gemworld.com


Our mailing location is:

Jack Slevkoff's
Timeshares
For Sale or Rent
c/o 4460 West Shaw Avenue, Suite 140
Fresno [Non-domestic]
California [Zip Exempt]
usA